Have you ever seen a pair of heels and thought, "If I owned those shoes, my life would be perfect. It would never rain. I would never get sick in these shoes. Happiness would follow me everywhere…" That is how I felt when I first laid eyes upon this pair of Kate Spade neon pink pumps.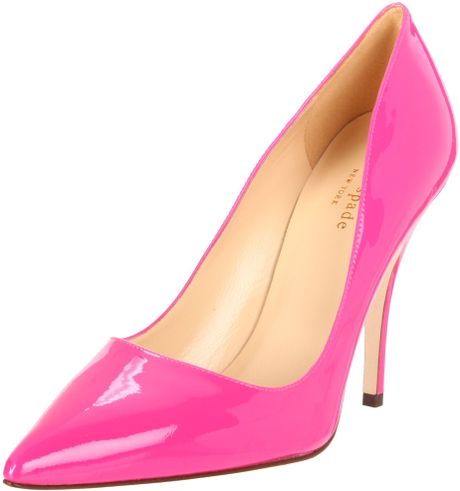 Ohhhh baby, come to mama! It's the ultimate girlie color in a very sexy, womanly shoe. These pink beauties would be such a fun, easy way to brighten up anyone's winter wardrobe- or any season for that matter. The price however, is far, far beyond my budget. Like four flights, a train ride, a bus ride (where you sit next to a chicken), another bus ride, and then a seven-mile hike…-like that far beyond.
I knew I needed to find some similar but much more affordable options. I listed my favorite finds for gorgeously bright heels below- all under $50!
Pretty Bright Heels
(Um, hello perfect copycat!) Women's Pleaser, Shoebuy.com, $48.95
Cupid Trench, jcpenney.com, $39.44
Fabulicious Lumina, shoebuy.com, $49
Michael Antonio Lamiss, heels.com, $46
FedraPump, justfab.com, $40
Ohhh yeah, this saucy stepmom is totally gonna be rocking the bright pink pair at next school play! What? I'll pair it with some tasteful boyfriend jeans and a pink plaid shirt to keep it appropriately saucy.  In fact, wearing bright pumps is actually super easy even in everyday life. Just pair them neutral basics et voila…instant glam!
Outfit Inspo with Bright Heels
Jessica Alba adds a pop of edgy chic to her outfit with these neon yellow pumps.

I LOVE this outfit! The pink really makes the whole outfit pop. Notice how she keeps the pink from seeming too random by adding a small, matching accessory.
Again, neutral basics + bright pumps = easy, casual glam!
xoxo
Missy